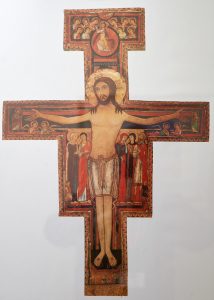 At Holy Family, we WELCOME all visitors safely at our office.  Telling them that they are entering a friendly, happy place where children follow the ways of Jesus by loving, valuing and respecting each other.
At Holy Family, we WORSHIP God through our class prayers, Masses, music, assemblies, class prayer and worship services, through our actions and through the way we live and treat each other.
At Holy Family, the WORD of God is placed at the centre of all that we do, following diocesan guidelines and an enhanced curriculum that allows pupils to celebrate the word of God in an interesting and fun way.
At Holy Family, we WITNESS a loving, caring God in the way we live, the way we treat each other and in the way we reach out to others.
At Holy Family, the WELFARE of pupils is paramount in the way we care for and support each other, how pupils feel safe and how each pupil is encouraged to develop spiritually, academically and physically.
Here is a link to our church facebook page website where you will find more information  click here