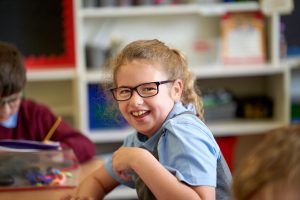 At  Holy Family School we follow the revised national curriculum 2014.  For information about the national curriculum, please use the following link: https://www.gov.uk/government/collections/national-curriculum.  
How

 we teach.
We provide a challenging and inclusive, language rich, skills and knowledge based curriculum. It captures the imagination of our children, stimulates their natural curiosity and creates a love of learning that is life-long. Subjects are taught in the context of a purposeful topic, based around a high quality text that inspires, excites and enthuses learners. Teachers and children choose engaging learning challenges that develop key knowledge and skills linked to the National Curriculum. Visits, visitors and hooks for learning are an integral part of our teaching to broaden our children's experience and enhance their learning.
Curriculum Intent:
We believe in developing a well-educated child with good communication skills who is confident and motivated and has a love of learning. We strive to  provide opportunities in all year groups to ensure that all children are school-ready, work-ready and life-ready. Our curriculum is based around  high quality texts to help the children make links in their learning and develop an enquiring mind. Through carefully planned lessons and activities we aim to:
ensure that all our children are in the best possible position in all subjects for starting their secondary education.
develop their language skills through reading and vocabulary development.
develop their social and emotional skills to ensure that children leave our school as resilient and confident learners
raise aspirations: providing a wide range of experiences, involving parents in their child's learning journey so all children believe they can achieve.
Religious Education
Religion is taught twice a week using a Diocesan approved scheme "Come and See." Lessons take many different formats, with children's work being produced as written work, reading comprehension, presentation in ICT, drama and art.
RSHE/PSHE
Our Mission Statement commits us to the education of the whole child (spiritual, physical, intellectual, moral, social, cultural, emotional) and we believe that RSHE is an integral part of this education.
"We live, learn and love in His way."
Furthermore, our school aims state that we will endeavour to raise pupils' self-esteem, help them to grow in knowledge and understanding, recognise the value of all persons and develop caring and sensitive attitudes.
You can find The RSHE Policy here and the RSHE Curriculum Overview here. 
Reading.  
At Holy Family we aim to promote a genuine love of reading, where children choose to read for pleasure. Phonics and spelling sessions are taught in Foundation Stage and Years 1 and 2 each morning.  During these sessions, children learn to recognise and say phonemes (sounds) and learn and write graphemes (letters / combinations of letters) through creative games and activities.  The skills learnt in Phonics are an essential tool to help children to blend and segment words and therefore develop their reading and writing.
A variety of reading schemes are used throughout the school such as Oxford Reading Tree, Collins Big Cat, Generation X with a view that children will always be able to find a book that is suitable for them.  In the Juniors, there is a wider range of  fiction and non-fiction books available to keep eager readers engaged and satisfied.  In addition to set reading books, we have a library in school and each classroom has a comfortable and inviting area set aside for children to choose books from.  Teachers read to their classes on a daily basis from a variety of genres.  For further information please see Reading Page in the Parents Section.
Phonics
Please click on the link below to see how we teach Phonics.
Maths
At Holy Family, we follow a mastery approach to Maths.  Mathematical themes are taught in blocks. Once a theme has been taught, children revisit the theme during mental starters and morning tasks.
We follow White Rose Maths Hub for planning to ensure that the children's Maths knowledge and skills are fully embedded. This is done by teaching a mixture of fluency, reasoning and problem solving activities.
Maths is taught daily in all classes in school with a wide range of group work, individual challenges and maths games. From Year 2 to Year 6, one lesson a week is used to teach and reinforce arithmetic. Children are supported in maths lessons by a mixture of pictorial and concrete resources as well as adult support.
Each block begins with a pre assessment; this is used by teachers to plan to meet every child's needs as well as identify any children who may need extra support such as a pre-teaching or interventions.
Foundation Subjects:
History, Geography and Science are taught through learning challenges which often have cross curricula links with other subjects, such as Art and DT, through a high quality text. Curriculum Plans can be found below.
Music is taught throughout the school using the Music Scheme Charanga. In Y4 all children are taught to play the clarinet by a woodwind specialist.
PE lessons take place each week and we have a range of visiting specialist coaches who teach classes and provide after school clubs on a term by term basis. A high emphasis is put on health and fitness. Sports coaches organise games and activities at lunchtime, we have an outdoor gym and children take part in the Daily Mile. This year we will be introducing "Wake up, Shake up" for the children as they arrive at school. In Y3 children a receive a 60 minute swimming lesson each week during the Autumn and Spring terms.
Computing is embedded throughout the curriculum at Holy Family where we have Chromebooks and iPads available for children's use. Computing is taught by a specialist teacher Mrs Nellist once a week. Skills taught are then embedded through other curriculum subjects.   Each classroom has an interactive whiteboard which enables lessons to be engaging and fun for the children.  The school has invested in a number of online resources (e.g. Purple Mash, Timestables Rockstars and Learning Clip) for the children to use, some of which can also be accessed at home.
We teach French for our Modern Foreign Language.  Homework is set each week with activities intended to enhance and extend teaching and learning.  Parental support with homework will increase the benefit of these activities for your child.